Reach your guests with targeted offers
with our Google Ads service.
Individual Google Ads provide effective and targeted marketing for your hotel with complete cost control. Not only can you increase direct bookings and maximise revenue, it is also a simple way to attract new guests. Google Ads are one of the most profitable marketing measures ever thanks to the relatively small budget required. Regular optimisation of your Google Ads campaigns allows us to react quickly and achieve the best possible results for your budget.
Tailored to your marketing objectives
A brand campaign, special campaigns, display campaigns or retargeting campaigns – we establish your Google Ads needs in a personal consultation.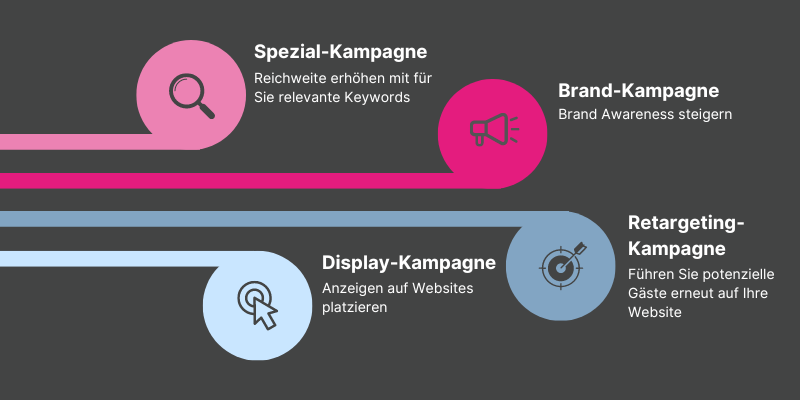 FAQ
.
Everything you need to know about Google Ads.
Are Google Ads right for my hotel?
Google Ads are right for you if you have high commission costs and want to increase the proportion of direct bookings and reduce your dependence on OTAs.
Can I adapt the campaign themes?
In addition to hotel rooms, you can also promote offers including your restaurant or conference packages. The ads placed on Google can be used flexibly and at short notice for seasonal offers, for example.
Can I run campaigns locally?
Yes, you can specify exactly where your Google Ads are to be displayed. This reduces waste coverage and ensures efficient use of your media budget.
Who decides on the campaign themes?
At the start of our partnership, we create a comprehensive keyword search based on your wishes, target groups and USPs. We then draw on our years of experience to make a recommendation, which we will review with you before the campaigns go live. Even after that, the campaign themes can be altered three times a year free of charge.
We make a budget recommendation for you when we are preparing our quote. It is difficult to give a blanket answer as there are various factors at play. Please simply contact us (no obligation) and we can make a suggestion for your case.
Why do I need a brand campaign?
The aim of this type of campaign is not to increase brand awareness, but to boost direct bookings through your own website and thus reduce commission costs for OTAs such as booking.com If a user enters the brand name of your hotel in Google, the Google Ad appears amongst the top search results. The user is then more likely to visit your website and book there.